Caption Contest
Whilst rumaging the other day I came up with the following newspaper clipping circa 1979. You are invited to submit suggestions for a caption (for instance, "Chicks ride in back" or "Where's the gun switch").

Please note that the "unidentified member of the base" is paying no goddam attention whatsoever to the driver and instead appears to be transfixed by the navigator's lap. Looks suspiciously to me like he is examining the equipment, not explaining the equipment.

Winning entry will be treated to a free pilsner at the Bear's Den in Gronlid Canada.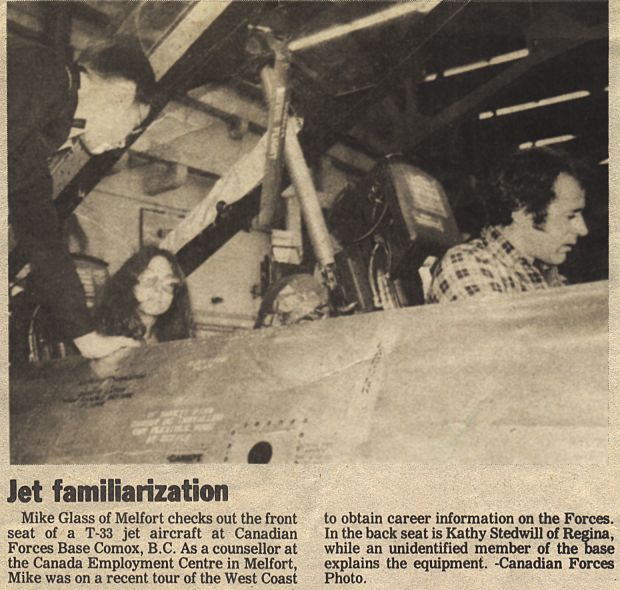 The Entries so far . . .
From the P.A. Angels
"Did I get sucked into the Bermuda Triangle"

"Why don't I crash & get amnesia"

"You are the wind beneath our wings"
"Oh Where oh where did we go from there?"
"The things we used to do"
There was once a young man from Melfort,
Who always wanted to be a pilort,
So off he went
Government's money he spent
And with the navigator he did flort.
From Cindy
Like I was just hangin around like the airport and like this guy asked me like if I wanted to go for a spin and like .....well we're here. Like that's OK eh??
Excuse me ma'am are those goggles CAF approved?
I know it's somewhere in here officer.
Where in the hell do you put the quarter?
Hey sweetie, why don't you dump that wannabee pilot and come fly with me?
If I take the blue wire and touch it to the white wire.........
"Step out of the aircraft", "down on the ground", I said "down on the ground" "hands above head"....those sideburns are illegal and must be trimmed....
Kathy I don't care what he's telling you, the operators manual makes no mention of a T33 jet.
Where's the choke?
COMOX? COMOX??... I clicked my heels twice and wished for a comb for my locks. Damn Airforce...can't even get that right!
From Debbie
"TOP GUN" CONTROLS HIS STICK WHILE GIRL WAITS FOR ACTION
MINI SKIRT MAMA ATTRACTS ATTENTION OF UMOB
GIRL.....WHAT GIRL?
JET....WHAT JET?
FLIGHT UNDER GLASS
GLASSY PILOT SEARCHES FOR CONTROLS
Submit your entries to mjglass@hotmail.com.
The way it's going so far, I have a feeling that it's gonna cost me more than one beer . . .







Visit the Capn's Log